Bunny Bait, an alluring DIY Easter gift idea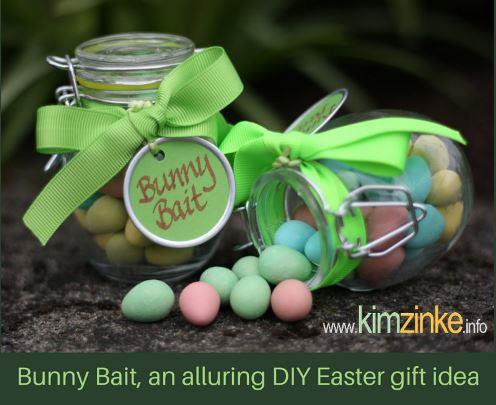 I had a mission this Easter weekend. Search out the Easter Bunny with the help of my friends. These Bunny Bait jars are sure to do the trick!
I never know when I'm going to get the itch to do something creative. But when it does, Pinterest to the rescue!
Apparently you can put just about anything in a mason jar. And Easter gifts are no exception. Inspired by a few pins, I came up with my own version of this DIY Easter gift idea of Bunny Bait jars. Quick, easy, tasty, and sure to lure in smiles from every age group!
What you'll need
Jars with lids
Ribbon
Tags (printed with the words – Bunny Bait)
Cadbury Mini Eggs
Optional (for larger jars): different sized candy eggs and a chocolate bunny
Putting it together
Separate out candies by colour
Fill the jar by layering in candies
Wrap a ribbon around the top of the jar and add a tag
I experimented with different jar and candy sizes. I felt the cutest were the smallest jars, which were spice jars from the dollar store (2 for $1). The Cadbury Mini Eggs were proportionally the best size for the small jars. You can use just about anything as the Bunny Bait. Colourful jelly beans would be a lot of fun.
For the larger jars, I used different sizes and types of candy eggs for a little variety. The chocolate bunny upped the cuteness factor. There not as gorgeous as Martha Stewart's, but they are still darn cute!
For more Pinspiration
Visit my Spring & Easter Pinterest board for more ideas. Next year I just may have to make the Bunny Tails. For this project, these were the pins that inspired me:
• Bunny Bait printable tags – Tammy Mitchell Designs
• Easter mason jar gifts – Celebrate Women Today
• Bunny in a mason jar – Times Like
Did you give or get any homemade gifts this Easter?