Hello Victoria!
The first time I visited Victoria I was eight years old.  It was love at first site.  Many years later, and a very circuitous route, I finally got to call Victoria home.  Then the transition from tourist to resident began.
Once I got my fill of the typical must-do's (you know, things like gazing out over the Pacific Ocean, Butchart Gardens, The Empress, Fisherman's Wharf, and Royal BC Museum) it was time to explore a little further afield.  Stroll the inner harbour, shop, eat, and people watch.  Walk the dog at one of the many off-leash dog parks.  Visit heritage and military sites and look like I'm totally not weirded out during a ghost walk.  Ogle gardens and brag about the annual flower count at the end of February.  Partake in high tea and order from a food truck.  Feed wild seals while seriously considering selling everything and moving onto a float home or sail boat.  Grab some rotting fish and drop a crab trap while counting the whales and porpoises swimming by.  Browse the talent and wares at the local weekend markets, artist fairs, and festivals.  Cheer on or dress up for annual zombie walks and gay pride parades.  And attend a class or volunteer in the time that's left.
Every week I stumble across another great business, restaurant, hidden natural gem, or new activity.  For inspiration, I'll post about some of my Victoria and island finds and haunts under the Victoria tag.
What's happening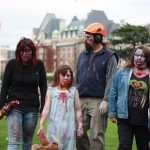 There's no excuse to be bored around here!  Here's my listing of go-to places for inspiration and to find out what's happening around Victoria.
What's happening – I've categorized the listings by activities, attractions, events, food & beverage, mass media, misc, and official sites.
Hunt for the best breakfast spots in Victoria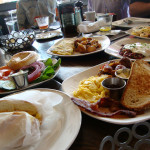 Not that I don't like all other food, but there's something about a hearty breakfast on a weekend that is incredibly satisfying.  Enjoying breakfast with friends is one of my favourite past times, as long as it doesn't start too early and no one expects me to talk before my first cup of coffee.